Norwood Hospital
We're thrilled to be a part of this exciting new addition to Norwood, MA — the new Steward Norwood Hospital. This will be the first newly constructed hospital in the area in over 25 years and will be located in the heart of Norwood. The new facility will be constructed on the existing hospital footprint and will include 400,000 SF of clinical and administrative space.
Sunrise is set to be on site beginning in the summer of 2023 with a scope of work that includes the entire exterior facade. The project team is led by Jack Sherman (project exec.), Luke Cowper (PM), John Dauphin (asst. PM), and Pouya Miryousefi and Ted Rogers (engineers).
GC: Suffolk Construction
Architect: Smith Group
Owner: Steward
Whittier Choice - Phase 3
With an anticipated start for the end of 2023, this new residential development — the Whittier Street Apartments — will have a scope of work that consists of exterior metal panels and glazing. The project will include approx. 84,000SF of ACM in eight different colors.
The Sunrise project team is led by Jack Sherman (project exec.), Eyob Gurmu and Umer Ijaz (project managers), and Farid Forouhi (engineer).
We're excited to team up with Dimeo Construction and The Architectural Team (TAT) on this one!
Owner: POAH, LLC.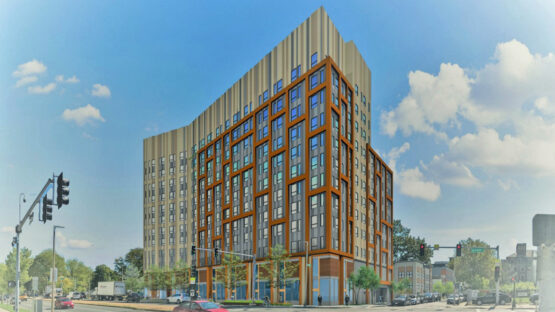 Enterprise Research Campus Hotel
This impressive new development for Harvard University — the Enterprise Research Campus Hotel — is projected to kick off for Team Sunrise in the spring of 2024. The main scope will include approx. 72,000SF of unitized curtain wall, and 3 elevations will have a factory applied, custom curved aluminum panel pre attached to the CW module by Aza US Corp. of Italy.
Additional scope includes 14th floor aluminum soffit panels and aluminum corrugated panel screen wall. Leading the project for Sunrise are Jack Sherman (project exec.) and Jimmy Murray (project manager).
GC: Suffolk Construction/HJ Russell Co.
Architect: Moody Nolan/Marlon Blackwell
Owner: Tishman Speyer
155 North Beacon
155 North Beacon is an upcoming life science project on North Beacon Street in the Brighton area consisting of a combined 190,000SF of façade scopes.
The scope of work will include: unitized curtainwall; terra cotta, ACM, corrugated and insulated panel systems; louvers; screen wall; and skylight.
The project is currently slated for a late 2024 start with substantial completion in late 2025.
The Sunrise team is led by Jack Sherman (project exec.), Nithin Krishna (PM), Umer Ijaz (assistant PM), and Ashley Williams and Farid Forouhi (engineers).
GC: Consigli Construction
Architect: Ellenzweig
Owner: IQHQ